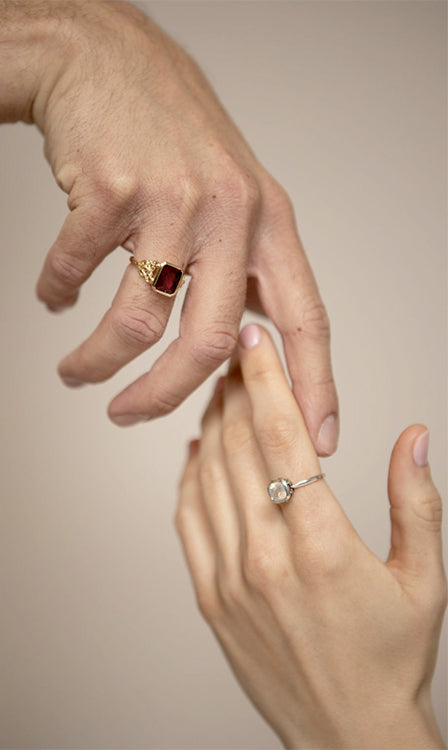 Timeless Pieces for Your Love Story
Kickstart your forever, mark your union, or celebrate another year together with our stunning collection of bridal jewelry. From unique, handcrafted engagement rings to anniversary jewelry, we're proud creators of ethical jewelry for all. We take huge pride in being named the preferred vendor by Equally Wed making sure that all those in love have a wide variety of jewelry to choose from.
SHOP BRIDAL JEWELRY
More Than "Fine" Fine Jewelry
Curate your own special collection of silver stacking rings or add a vintage-style monogrammed pendant to your jewelry box. Our fine jewelry is the ultimate selection of elegant jewelry that's handcrafted using recycled materials and sustainably sourced gemstones. Our high-quality jewelry is affordable, making it more accessible to all those with a love for unique jewelry.
SHOP FINE JEWELRY
Expressive Birthstone Jewelry
Mark your birthday month or a loved one's with an expressive piece of birthstone jewelry. This is a creative and sentimental way of recognizing and celebrating the month a remarkable individual came into the world. Our birthstone jewelry is all uniquely handcrafted to honor both the stunning gemstones found on our Earth and their symbolism.
SHOP BIRTHSTONE COLLECTION
Memorable Gifts at All Price Points
When it comes to gift-giving, we don't believe you should ever take shortcuts. This doesn't mean breaking the bank to spoil someone, which is why Metalicious has become the first choice for jewelry gifts for many of our customers — we offer gifts and gift cards at accessible price points. Spoil a parent-to-be or your bridesmaids with a piece they'll remember and treasure forever.
CHOOSE A GIFT